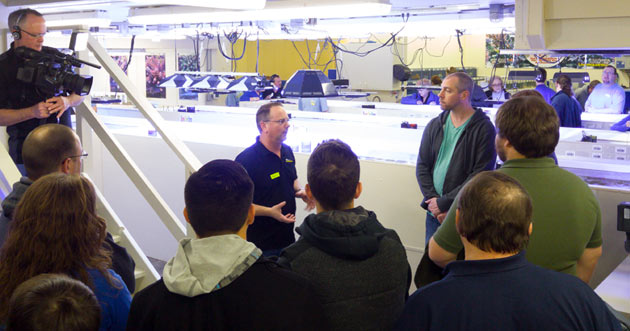 Our Open Houses have been created to give all area reef clubs and other interested hobbyists an opportunity to visit our facility, and take advantage of buying directly from the source!
2018 Open House Tour dates to be determined
Reserve your Open House date by emailing Tours@LiveAquaria.com.
(
Tours@LiveAquaria.com
)
Please include all participants' names, addresses and phone numbers and if you are attending the 10:00 tour or the 11:30 purchasing only. Openings for each Open House are reserved on a first-come-first-serve basis. Space is limited to 60 people (including children*) per Open House event. Tours fill up quickly so reserve your Open House date today!
Please note: If the link above does not work please email Tours@LiveAquaria.com.
Learn More About Our Open Houses
1-hour Guided Educational Tour takes a behind-the-scenes look at: filtration equipment and an explanation of its functions, details regarding our fish, coral, and invertebrate holding systems, as well as our extensive quarantine and conditioning procedures (no purchasing available during the Guided Educational Tour).
Following the Guided Educational Tour is the Buyer's Open House (open-house purchasing) designed specifically for hobbyists, collectors, and coral aficionados. During this portion of the Open House, feel free to leisurely view all of the animals in the facility, ask questions, and PURCHASE any of the aquatic life (excludes display animals and already-sold Diver's Den® aquatic life) housed in the facility.
PLUS! All Open House guests receive 10% off ALL purchases from the Retail Store.
Facility closes at 2 pm.
10% OFF all purchase from the Retail Store! (The Retail Store is open from 9:00 am - 5:00 pm CST.)
Specimens from the facility are available for purchase during the Buyer's Open House (open-house purchasing) only. Purchases must be taken home the day of the tour. Please note: The only accepted forms of payment are a valid credit card or a Drs. Foster and Smith / LiveAquaria gift certificate.
Adequate staffing will be provided for questions and consultation with guests.
* Children under 16 years of age must be accompanied by an adult and supervised at all times.
Learn More About Our Facility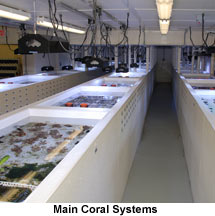 First opened in July, 2005, our Coral Farm & Aquatic Life Facility is one of the nation's few premier coral propagation facilities. Our cutting-edge facility employs the most sophisticated technology in lighting, filtration, water movement, and quarantine systems to ensure the hardiest and disease-free coral and fish selection for home aquariums. Our staff of aquatic experts and diagnostic specialists personally oversees the health of all of the aquatic life housed in Rhinelander, WI.
Designed by LiveAquaria Director Kevin Kohen, this unique facility is dedicated to education, conservation and the advancement of the hobby through best practices and smart choices. We are proud to offer reef and marine aquarium enthusiasts one of the largest selections of premium captive grown, aquacultured and maricultured aquatic life. Through our successful efforts in coral propagation, an ever-increasing number of Certified Captive Grown Corals (CCGC) are available for reef hobbyists. We are so confident of our hardy aquacultured corals that each CCGC frag comes with a Certificate of Authenticity and an industry-leading 30-day guarantee.
Our Coral Farm & Aquatic Life Facility is also home to the exclusive WYSIWYG (What-You-See-Is-What-You-Get) Diver's Den®. Our holding systems house a prized selection of hard-to-find fish, corals and invertebrates. Each species is quarantined and then photographed for sale so what you see is TRULY what you get.