All your favorite catalog items, PLUS:
Closeouts, Closeouts & MORE!
Full selection from catalogs available!
Freshwater & Marine Fish, Coral Selection, and More!
PETS WELCOME! FREE Treats for Leashed Pets
Browse a wide selection of veterinarian-approved pet products & see our large selection of aquatic life.
Be sure to "Like" us on Facebook for special deals and fun posts!
Store hours:
Mon - Thurs: 8am - 6pm
Friday: 8am - 7pm
Sat: 9am - 5pm
Sun: Closed
Phone:
1-715-369-9312 Directions:
Find us just off Hwy. 8 at 2423 Air Park Rd. in Rhinelander, WI! Click here to map your directions.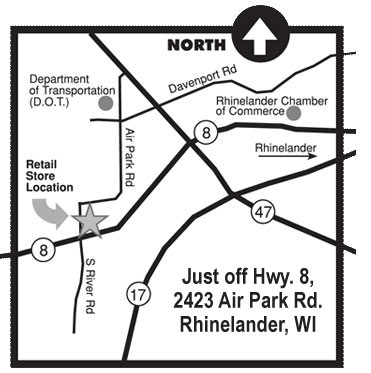 Aquarium Section:
At our Retail Outlet, we also carry a large selection of popular freshwater and saltwater fish, along with inverts, corals and more! We also carry any of the aquarium supplies you need. If we don't have it in the store - we'll just get it straight out of the warehouse for you! Interested in more advanced corals and fish? You're welcome to pre-order from our LiveAquaria.com Diver's Den section. Pre-orders must be made 24 hours prior to pick-up. For phone orders please call 1-715-369-9312 during Retail Store business hours, after hours please call 1-800-334-3699. Inform the customer service representative that you will be picking up your order at the Retail Store the following day, and please provide an approximate pick-up time for your order. For internet orders: Place your order as usual, and during checkout, in the comments section, please add a note stating when you will pick up your order. Use the following ship-to address: Drs. Foster & Smith Retail Store, 2423 Air Park Rd., Rhinelander, WI 54501. Please keep your order number handy, as you will need this to pick up your order at the store.